Let's start the conversation about your landscape project.
Lighting & Irrigation, Hamilton, Ontario
Landscape Lighting & Irrigation Services
Danasy Landscaping and Maintenance offers a range of landscape lighting and irrigation services to homeowners living throughout Hamilton and the surrounding areas. All of our lighting and irrigation systems can be custom designed to meet your exact requirements.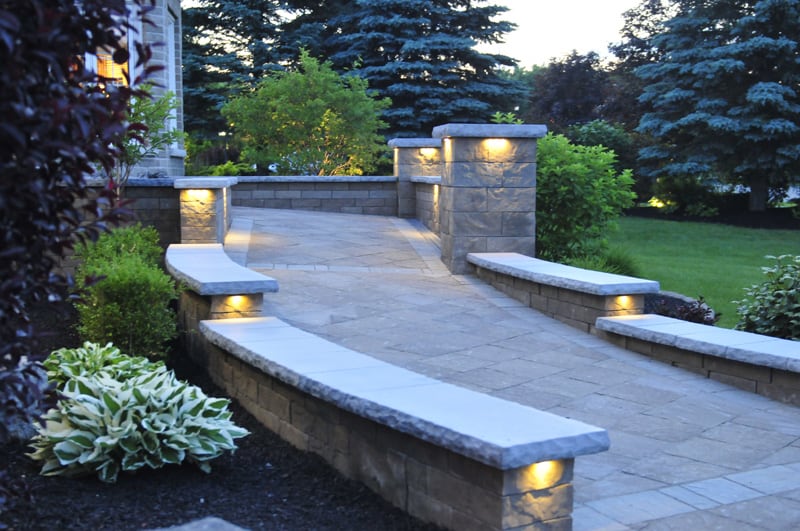 Smart-design lighting and irrigation systems
Lighting & Irrigation Services
Lighting design solutions
If you are unsure about what type of lighting will work best for your particular needs, we can help. The lighting professionals from Danasy Landscaping have years of experience designing and installing all kinds of landscape lighting solutions for both rural and urban properties.
Landscape lighting
No matter what type of lighting you are looking to incorporate into your landscape—wall washes, spotlights, ground lights, etc.—the team from Danasy can help ensure that all lights are installed and working properly. Our team will even take the time to give you expert advice on how the lights should be positioned in order to maximize the amount of light provided.
Security lighting
Adding security lighting around your property can help prevent guests from tripping in the dark, while also deterring thieves from trying to break into your home. Danasy Landscaping and Maintenance offers a wide selection of automatic and manual security lighting systems that are perfect for homes of all shapes and sizes.
Custom irrigation systems
The team from Danasy has over 30 years of experience in servicing, designing, and installing irrigation systems for lawns and gardens. Our team is certified through the Irrigation Association and Ontario Water Works Association, so we can also provide an audit of your home's current irrigation system to ensure that it is properly conserving water.